"The one thing we enjoy most here is that there is no shortage of high quality restaurants".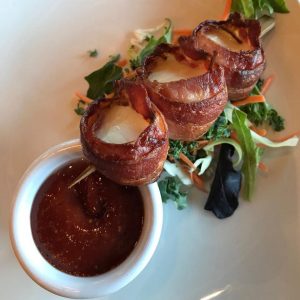 Each with their own house specials and menu selections. Some of the places we have really enjoyed are; The Mahle House in Cedar which prides themselves on fine dining and an incredible wine list for pairing. Riso in Lantzville has out of this world wood fired pizza, all ingredients are local fare. Nori Sushi has some of the city's freshest sushi and entertaining sushi chefs. Alexandra's Bistro specializes in the "big fat greek platter for two" it is sure not to disappoint. If you have a hankering for outstanding authentic Mexican, Gina's or Jalapenos would be the places in town. Do you enjoy a big bowl of Pho? If so, Huong Lan will hit the spot perfectly.
In downtown Nanaimo, one of the oldest and most historic buildings; is home to the Firehouse Grill with delightful ambience and mouth-watering selections. Does some Indian curry make your mouth water? Well Gateway to India is always enjoyed, who doesn't need their dose of tumeric? Nanaimo's historic Old City Quarter is nestled in the heart of downtown. There is no shortage of outstanding, quaint and charming restaurants there. Along Wesley Street is Asteras, which serves traditional Greek cuisine; everything made fresh and to order. The Nest showcases some incredible five star dishes.
Want to gander around the inner harbour? The Lighthouse Bistro has both a waterfront bistro and a pub. How about sitting on a floating restaurant like Penny's Palapa and enjoy the warm summer breezes while enjoying the harbour views. Take a short water taxi to the Dinghy Dock Pub and see Nanaimo from the other side of Protection Island.
In the mood for some laid back and fun casual dining? Check out some of the local pubs and microbreweries. The Crow and Gate is an amazing English Style Pub with fantastic grounds and lovely pond; home to many waterfowl. The Long Wood Brew Pub has raspberry ale; even non beer drinkers would enjoy it. Arbutus Distillery serves many unique spirits; locally sourced ingredients and is made in house. Apparently, there is a "Sasquatch" that is highly recommended; it has nothing to do with big feet. The Black Bear Pub overlooks Brannen Lake and has a lovely outdoor patio. The Lantzville Pub is overlooking the Strait of Georgia. Have you ever had Pachos? Well Carlos Obryans serves these delicious morsels of crispy goodness. Want to catch fight night, or a good sports event? Check out Millers Pub. Some casual dining and fun social hang outs such as; Original Joes, Browns Social House and the Cactus Club are enjoyed by many locals to connect with friends and family, watch sports or just to enjoy a great meal. Close to Lakeview Homes is the local pub, The Wellington Hotel with weekly live music and Sunday inexpensive brunches.
Some scrumptious lunch options; such as Gabriels Gourmet Cafe which prides themselves on local sourced and organic. At Delicados they serve fresh food with a southwestern flare. Powerhouse Living creates tasty raw and vegan options. While Rawmbas uniqueness featuring delicious gluten free choices. Coco Cafe in Cedar, is a special dining experience; breakfasts and lunches all made from scratch daily. Would Lebanese tickle your fancy? At Alladins, we are told "everything is made with love". Bocca Café serves hearty fresh soups and sandwiches and is a delightful place to enjoy the patio on a warm summer day.
" Some of the most important conversations I've ever had occurred at my family's dinner table ". ~ Bob Ehrlich
Free Guides to Dining in Nanaimo
Lakeview Rental Homes wants to help you make the most out of your visit. We have numerous free resources that we would like to pass along to you. Select a guide below or, view a complete list of all the guides and resources we offer on our Contact Us page.