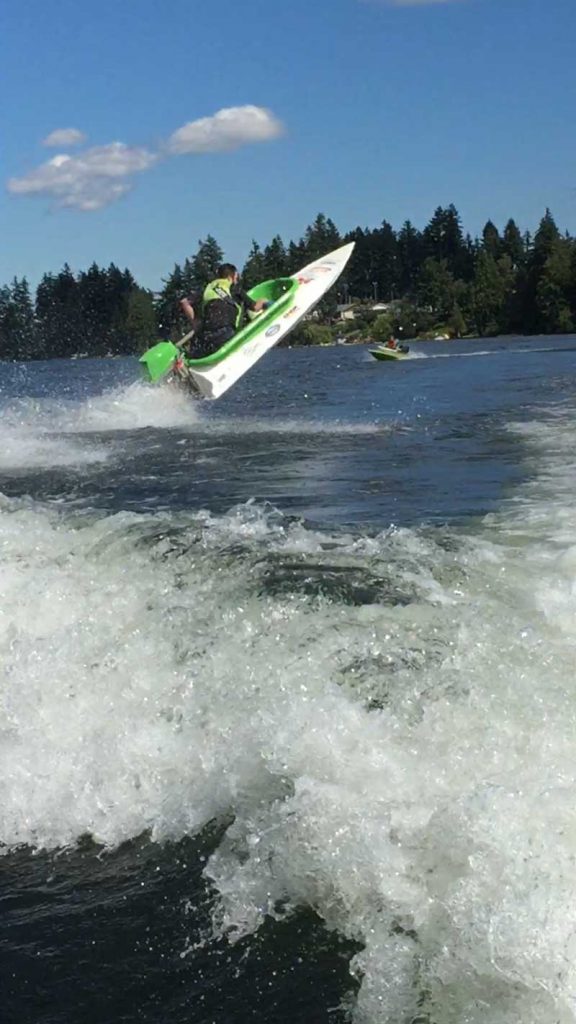 Have you seen The Great International World Championship Bathtub Races? In July of 1967, the first official bathtub race occurred and after 40 years of racing, the sport has become one of the summertime highlights. There is an annual race each summer in July and a festival to follow. Tubbers venture many miles, in sometimes dangerously rough waters in the Straight of Georgia . This "Great Race" finishes at Swyalana Lagoon in Nanaimo covering a very grueling course that leaves Nanaimo harbour, circles Entrance Island and then up to and around Winchelsea Island and back. In 2017, many racers boats sank due to the treacherous waves and rough seas. A handful of very persistent and highly skilled individuals crossed the finish line to ring the official bell. Lakeview Homes is very proud to announce a family member raced in the Splashes boat and came in 2nd place! It was incredible. The picture on the left is of him practicing on Long Lake. Lakeview Rental Homes enjoys partaking in all the festivals events and family fun that Nanaimo has to offer each and every year.
The Silly Boat Regatta is recognized as one of Nanaimo's premier events, bringing nearly 10,000 participants into this fun-lovers sport. Teams build their boats using great creativity, interesting flotation devices and using their team skill as they attempt to be the last boat a-float. We have seen some many interesting boats made of pool noodles and duct tape trying to keep afloat. This fun event brings the community together and cash is raised for kids and docnated through the Nanaimo Child Development Centre.
The Cadillac Van Isle 360 is a 580 nautical mile. point to point race circumnavigating wild and rugged Vancouver Island, B.C. This biannual rate occurs in June on odd years. This race is sailed in ten legs. The course provides inshore, offshore and overnight stays through some of the world's most challenging and beautiful waters.
How about racing in an ancient Chinese style dragon boat for an amazing cause? Nanaimo's own Dragon Boat Festival is wet and wild! Traditionally these boats were launched and this was called the "Awakening of the Dragon" or "Eye Dotting" ceremony, which "awakens the spirit of the dragon". The ritual is performed to rouse the dragons to life. Money raised through this festival is to provide hope and awareness for breast cancer research. Each participant wears a pink carnation that is then tossed into the water to remember those who lost their fight and those who continue to fight against cancer.
Is your family looking for some exciting fun filled family entertainment? Well how about trying bungy jumping off a 150 foot bridge over the Nanaimo river. This is North America's only legal bungy bridge, with over 135,000 jumps to date. If you prefer to not have that much adrenaline pulsing through your body, the family may prefer to partake in the aerial obstacle course in the trees, called the Monkido course. Are the kids acting like energetic monkeys and have some energy to burn off? Bring them over to Airhouse, where they can jump until their heart is content. Airhouse has multiple styles of trampolines, a free running zone, and BMX and snowboarding training. Right next door is the incredible Romper Room with over 7500 square feet of indoor climbing. There are various challenging levels ranging from gentle slabs to huge overhanging ledges.
" Family: like branches on a tree, we all grow in different directions yet our roots remain as one ". ~ Unknown
Do you like horses? How about some family trail riding? Starting at the Paradise Acre Ranch and heading towards Englishman River, you can relish in the beautiful tranquil forest while on horseback. If driving out to Errington, you can discover the beauty of Englishman River Falls Park. Bring the children out to Tiger Lily Farm for some hands on interaction with the barn animals, or partake in some riding.
Nanaimo is very well known as one of the best scuba diving destinations in North America. The underwater scenery is breathtaking. Enjoy the fascinating sites, when diving the shear wall at Snake Island, which is covered with vibrant plumose anemones. Diving at the two artificial reefs of the sunken HMCS Saskatchewan and HMCS Cape Breton are great, you can even explore a giant tugboat called the Rivtow Lion. There are three local dive shops which are a wealth of knowledge. If you need assistance, check out Sundown Diving and Sink or Swim Scuba both which are PADI representatives, as well as Nanaimo Dive Outfitters which is a full service local dive and snorkel shop. You can check out this video of Nanaimo Dive Outfitters.
How about a game of pickleball? This game has nothing to do with dill pickles either…. It is a racquet sport which combines elements of ping pong, tennis and badminton, using a hard paddle and a waffle ball. Check out the local community of players at Nanaimo Pickleball Club. Do you enjoy a great game of disc golf? Nanaimo Disc Golf Club is at Bowen Park, bring the family and come out for some fun. Or are you clever and an excellent problem solver? Try your talents and get a fun group together to try to escape at Nanaimo Break Out! As you can see, these are only a few of some very fun highlights in our area. If you are looking for something not listed, email us and we will point you in the right direction!
Free Guides for Family Fun in Nanaimo
Lakeview Rental Homes wants to help you make the most out of your visit. We have numerous free resources that we would like to pass along to you. Select a guide below or, view a complete list of all the guides and resources we offer on our Contact Us page.